Suzy Sonnier
Department of Children and Family Services
Prior to her appointment, Sonnier served as Chief Operations Officer for the Louisiana Workforce Commission, where she was responsible for the integration of the offices of unemployment insurance and workforce development. Sonnier also directed the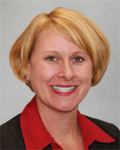 Secretary Sonnier
Department of Children and Family Services

Agency Initiative Management Office leading the implementation of LWC's strategic initiatives. Her initial role at the Workforce Commission was as Assistant Secretary and Director of the Office of Unemployment Insurance Administration.
Before her work at LWC, Sonnier served as DCFS' Deputy Secretary of Programs following the reorganization of the agency. During her time at DCFS, Sonnier worked to reform adult and child residential licensing and child care licensing. Sonnier also worked to recreate the state interagency council on homelessness and led the implementation of DCFS' office consolidation process, a key step in the agency's reorganization and modernization.
Sonnier originally joined DCFS in September 2008 following her service as the policy director for the Louisiana Department of Health and Hospitals.
Sonnier's other experience includes providing support for early childhood system efforts as a research instructor at the Institute of Infant and Early Childhood Mental Health of the Department of Psychiatry and Neurology at the Tulane University School of Medicine from 2006 to 2008.
Following Hurricanes Katrina and Rita in 2005, Sonnier directed the coordination of humanitarian efforts for the Louisiana Family Recovery Corps where she served as a liaison to state and federal agencies, foundations, community-based non-profit organizations and faith-based organizations.
From 2002 to 2006, Sonnier served as the Governor's senior advisor on children's policy with a focus on early childhood, education, health, mental health, child welfare and juvenile justice and helped to monitor and track legislation impacting children and youth and directed the Children's Cabinet and the Juvenile Justice Implementation Commission for the office of the Governor.
Sonnier holds a bachelor's degree in Communications from the University of Louisiana at Monroe, a master's degree in Public Administration from Louisiana State University and has begun work toward a doctoral degree in Health Systems Management at Tulane University.
.